Company
: Toronto International Film Festival
Project
: TIFF Nexus homepage
Area of expertise
: Product design, Branding
Background 
TIFF Nexus is a program of the Toronto International Film Festival designed to equip Ontario storytellers with the network, skills and partners they need to succeed in the rapidly evolving digital media landscape.
Challenge
Through a series of conferences and creative jams, TIFF Nexus set a goal to explore a range of emerging trends in interaction design, including locative media, women in digital media, and children's new media literacy. The task was to develop an adequate online experience, which would stand apart from other TIFF initiatives, and reflect the program's cutting-edge nature.
After several interviews with the stakeholders it became clear that the Tiff Nexus website architecture had to be as simple as possible. 
We decided to use a blog-like format. A familiar layout would feel more accessible and help users to get information faster. 
That approach yielded a fairly standard navigation:  About, Conferences (the calendar of events), Creative jams (posts covering each event), Gallery, and Press.

The problem with simple formats is that they usually go with bland visual templates. We wanted to avoid that stereotype and design something more unique.
The geometric nature of the wordmark helped us to set up the basis of the interface design.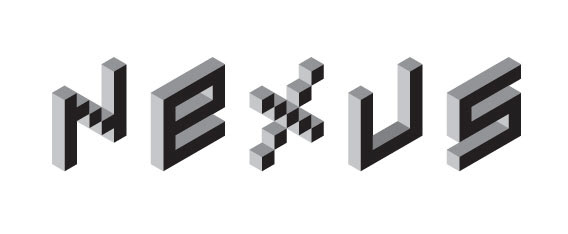 We simply used its triangular grid to place the interface design elements. 
That approach resulted in a playful interface and embodied the particular dynamic of TIFF Nexus: collective experimentation and improvisation, discovery through play, alternative storytelling, and the exploration of movement.